The innovative B&G H5000 instrument system is powered by a smart Central Processing Unit (CPU) with the ability to run three levels of software, Hercules, Hydra and Performance. Hydra is designed for sailors running a cruising, or dual-purpose cruising/racing, system and provides the sophistication you need without over-complication.
Running a system with an integral CPU has a wealth of advantages including web-browser based setup via the new H5000 interface, for easy set-up, calibration, commissioning, backup/restore and advanced diagnostics. It also expands the system's communications capabilities, with dual NMEA 0183 ports with selectable message configuration, Ethernet link to the webserver and other software apps. Add a wireless router and you benefit from tablet/smartphone integration. A CPU provides enhanced sensor support and specific sailing features like wind correction for heel/trim angle and true wind correction – improving the data displayed to the user and guiding the autopilot. It also simplifies seemingly complex calibrations through AutoCal calibration routines.
The H5000 Hydra CPU delivers enhanced HV display control, letting you oscillate the displays between two variables, for more efficient display use, and provides support for both expansion modules and many of B&G's existing sensors. In addition, the CPU provides advanced MOB function with dedicated MOB button input and dead reckoning of relative MOB position, allowing for tide, based on the initial MOB position or as updated via AIS SART with compatible equipment.
Key Features
-Ultra-fast ARM Processors:The CPU achieves speeds of up to 50 times that of its predecessor, for rapid calculation, real-time data and fast updates; each with the trademark B&G precision
-Performance Wind Filter:Provides stable, accurate wind data for displays and the autopilot.
-Flexible configuration:Tailor your Hydra setup to suit your application. H5000's wide compatibility provides swift, seamless integration with other instruments and electronics across the B&G marine network including AIS, radar and chartplotters
-Browser-based set-up: The CPU features browser-based setup via the new H5000 interface for fast, efficient and hassle-free commissioning and calibration
-GoFree™ Wireless Technology: Expand Hydra's functionality even further with third-party apps and stream data via GoFree, B&G's powerful wireless solution to remotely view H5000 instrument data via your tablet or smartphone. Requires wireless module.
-LED status indicators: Status indicators on the CPU provide a clear indication of system status.
Powerful central processor provides all core instrument calculations.
Enhanced feature set for serious cruising yachts.
B&G Performance Wind Filter.
Integrated webserver provides easy access to system configuration and control.
Backup/restore config. feature.
Dedicated interfaces for wind, speed, Man Overboard, alarm output.
Ethernet Interface.
Industry standard compatible CAN network.
2 configurable, di-directional NMEA 0183 ports.
4 configurable 0-5V analogue inputs.
USB Service port for software update.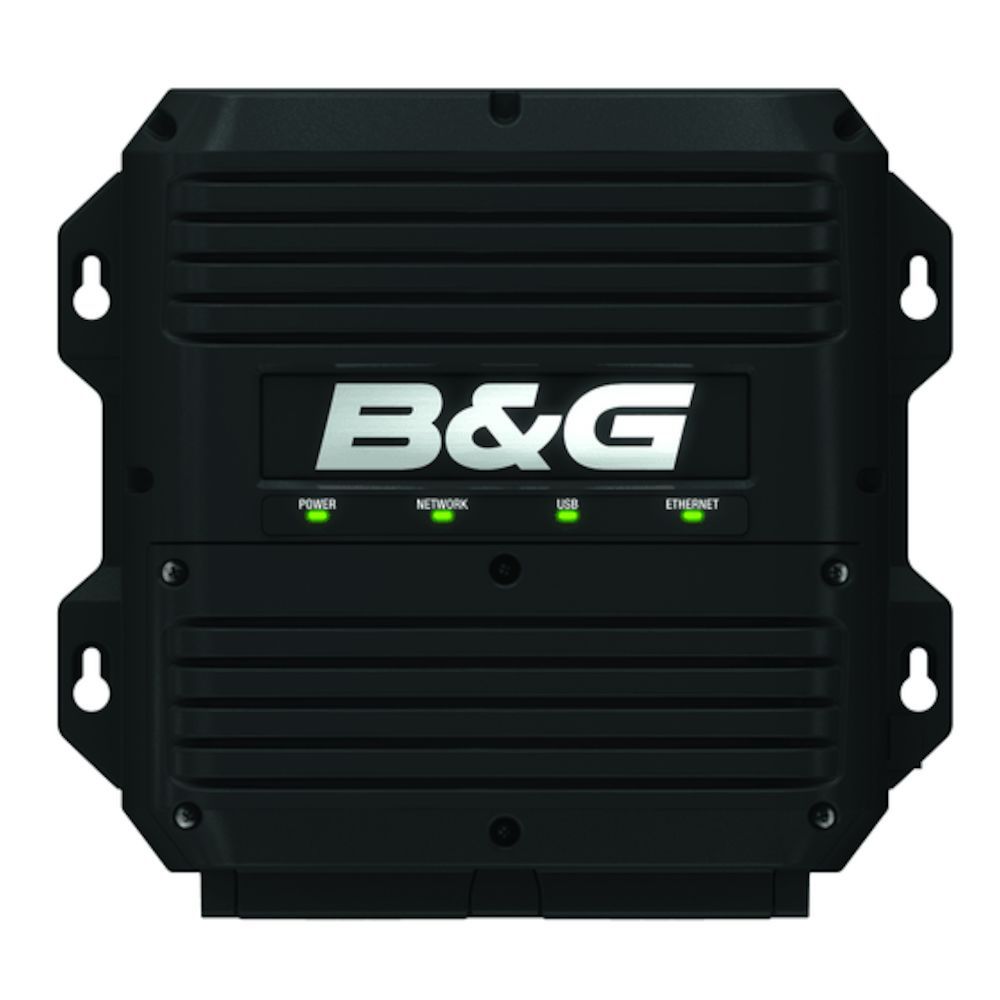 Connectivity
| | |
| --- | --- |
| NMEA 0183 Sentences supported | Input: GGA, GLL, RMA, RMB, RMC, VTG, ZDA, VBW, APB, BOD, BWC, GSA, GSV, AAM, DPT, HDT, HDG, XTW, MWV, THS, XDR, MTW. Output: GGA, GLL, RMB, RMC, VTG, ZDA, VBW, APB, BWC, GSA, GSV, AAM, VHW, VLW, DPT, HDT, HDG, ROT, XTE, MWV, THS, XDR, MTW, MWD, VDR |
| Ethernet | 1 x 100 Mbit |
| NMEA 0183 | 2x Tx, 2x Rx NMEA 0183, Baud Rates 4,800 – 115,200. (Optional cable required) |
| NMEA 2000 | 1 x NMEA2000 Micro-C port, 1 LEN |
| PC Connectivity | 1x Ethernet (webserver), 1x USB (software update) |
Electrical
| | |
| --- | --- |
| Power Consumption, typical | 2.4W |
| Recommended Fuse Rating | 5A |
| Supply Voltage | 12V DC (9-16V DC) |
Environment
| | |
| --- | --- |
| Operating Temperature Range | -10 to +55ºC (+14 to 131ºF) |
| Waterproof rating | IPX5 |
MFD
| | |
| --- | --- |
| Compass Safe Distance – Metric, imperial | 300mm (1.0′) |
Physical
| | |
| --- | --- |
| Dimensions (W x H x D) | 211 x 196 x 66mm (8.3 x 7.7 x 2.6″) |
| Weight | 0.7 kg (1.6 lbs) |
Other
| | |
| --- | --- |
| Warranty Period | 2 Years |
| Interface | Webserver |
| Languages | English |