Monitor and control every aspect of your on-water experience from a variety of customisable B&G multifunction displays. Extend your vision and control anywhere on board using your existing smartphone or tablet. Safeguard your investment with the ability to track your boat's position online, diagnose issues remotely, and even take control of key systems from anywhere in the world. This is the reality of today's connected vessel.
Worldwide Monitoring and Control
---
Your boat is an investment in the on-water lifestyle that you love to enjoy. Remote monitoring solutions allow you to keep track of that investment from anywhere in the world using your choice of Wi-Fi, cellular, and satellite coverage. You can even take remote control of key systems, such as lights and bilge pumps, to help safeguard your vessel against unexpected conditions or just prepare for departure before you arrive on board.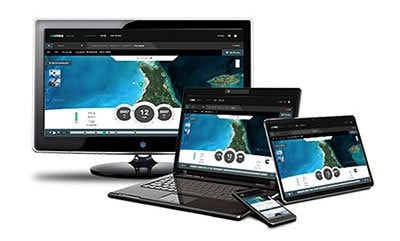 Digital Switching
Monitor and control your vessel's electrical system from any B&G multifunction display.
Naviop Loop
The joint network connects all vessel services with a single touch; simply access the Naviop network through the icon on your B&G Zeus home screen and the system will be connected directly to your on board equipment via a Naviop interface.
Captains and owners can work with boat builders to develop customised management systems. Users can monitor, manage, and control key functions such as engines, generators, lighting, navigation lights, fuel consumption, air conditioning, entertainment, tankage, security, bilge pumps, batteries, and other vital services on board. This can all be done on board or remotely accessed through compatible PCs, smartphones and tablets.
Connected Updates and Support
Today's smartphones install regular updates over-the-air without the need for a separate PC; you can expect the same from a connected boat. We regularly release free software updates which deliver exciting new features, expanded accessory support, and enhanced performance. These updates can be installed on board via any Wi-Fi internet hotspot, making it easier than ever to keep your boat's electronics up to date.
Smartphone and Tablet Connectivity
Mobile devices have become essential tools in the connected world. Smartphones and tablets serve as controllers for a wide range of devices; with a connected boat, they offer new ways to view and control B&G multifunction displays remotely from anywhere on board.
Smartphones and tablets also serve as content hubs, giving us easy access to our music at home, in the car, or on the go. Aboard the connected boat it's easy to stream music straight from your devices to your on-board entertainment system.
Connect your smartphone or tablet to your multifunction display by downloading the Link app on the Apple App Store or Google Play