Overview
The Simrad GO12 XSE chartplotter navigation display is a perfect way to expand the capabilities of sportboats, cruisers, and smaller center consoles with plug-and-play support for Simrad Broadband Radar™ and Halo™ Pulse Compression radar systems. Behind a super-bright, multi-touch widescreen display lies a built-in GPS receiver, wireless connectivity, and industry standard NMEA 2000® networking. Connect with smartphones and tablets, control your onboard sound system, monitor engine data, and choose from an array of built-in sonar technology to cruise with confidence and find fish like a pro.
Key Features
-Easy to use multi-touch interface
-Radar display for Simrad Broadband 3G™/4G™ and Halo™ Pulse Compression radar
-Supports the widest range of charts
-Widescreen with bright LED backlight
-Built-in Broadband Sounder™, CHIRP sonar, StructureScan® HD imaging or ForwardScan™ sonar support (transducer required)
-Compatible with the Simrad WM-3 SiriusXM satellite weather module (North America only)
Easy to Use Multi-Touch Display
The GO series offers true ease of use with intuitive touchscreen controls
that smartphone and tablet users will find instantly familiar. Customise your home screen with the features you use most, and see everything you need on screen at once with adjustable split-screen views.
Chartplotter Navigation & Waypoint Management
Simrad GO series displays are full-featured chartplotters with support for a wide range of cartography options including C-MAP®, Navionics®, C-MAP Genesis®, and NV Digital® Charts. Mark waypoints with a simple touch, and assign meaningful names that make them easy to find on your next trip.
Find fish with CHIRP & StructureScan® HD sidescan imaging
Add a suitable transducer and your GO series display works as a powerful fishfinder,
complete with CHIRP technology for clear detection of fish throughout the water column. Add an HDI or TotalScan transducer, and your display also offers StructureScan HD sidescan imaging for a picture-like view of fish-holding structure beneath and around your boat.
Expand Your View with a Simrad Radar Solution
The Simrad GO7 XSR is a full-featured radar display with plug-and-play connectivity to Simrad Broadband 3G™, Broadband 4G™, and Halo™ Pulse Compression radar systems. Cruise confidently through crowded harbours, navigate safely in poor visibility, keep an eye on distant weather cells, and find flocks of feeding birds that hint at good fishing spots. Automatic tuning helps to provide a clear radar picture in any conditions, while radar overlay combines radar data with navigational charts for an easy-to-interpret view of your surroundings.
(end of section)
Easier Navigation with Automatic Routing
Automatic routing brings the convenience of in-car navigation to boating, helping you to plot
a route and get underway with less delay. Simply select a destination, and your display will suggest the shortest, safest route. This feature is available with Navionics+ or Navionics Platinum charts (Navionics Dock-to-dock Autorouting), and C-MAP MAX-N+ charts (C-MAP Easy Routing).
* Automatic routing features are unavailable in North America.
Navionics® SonarChart™ Live support
Enjoy the most up-to-date charts on the water with Navionics SonarChart Live. Available
exclusively with Navionics charts, this feature creates a depth-contour overlay using live sonar data from your display's built-in sounder. The results are shown on your GO series display and updated in real-time as you fish or cruise.
Cruise Charting View
Designed with power boating in mind, the Simrad GO series offers a unique Cruise
Charting page that brings together crucial navigation data and charts in one easily readable display.
Simrad SonicHub®2 Compatible
The optional SonicHub®2 module is the perfect companion to your GO series display.
Stream music from Bluetooth® connected tablets, smartphones, and other mobile devices with this black-box audio system that eliminates the need for a separate head unit.
Built-in Wireless Connectivity
The Simrad GO series provides access to online services including easy wireless map downloads and software updates via any wireless hotspot. On the water, connect your Simrad GO series display to your mobile devices, mirroring your display's screen on your smartphone or giving you full remote control from your tablet with the free Link app.
* Built-in GPS receiver works in any bracket-mount installation, and when flush-mounted with most fibreglass hulls.
12-inch widescreen with bright LED backlight.
Easy to use with simple, intuitive touchscreen controls.
Works as a display for Broadband 3G™/4G™ and Halo™ radar.
Supports a wide range of charts from C-MAP, Navionics, and more.
TotalScan™ transducer delivers CHIRP sonar and StructureScan® HD imaging views.
Compatible with the WM-3 SiriusXM satellite weather module (North America only).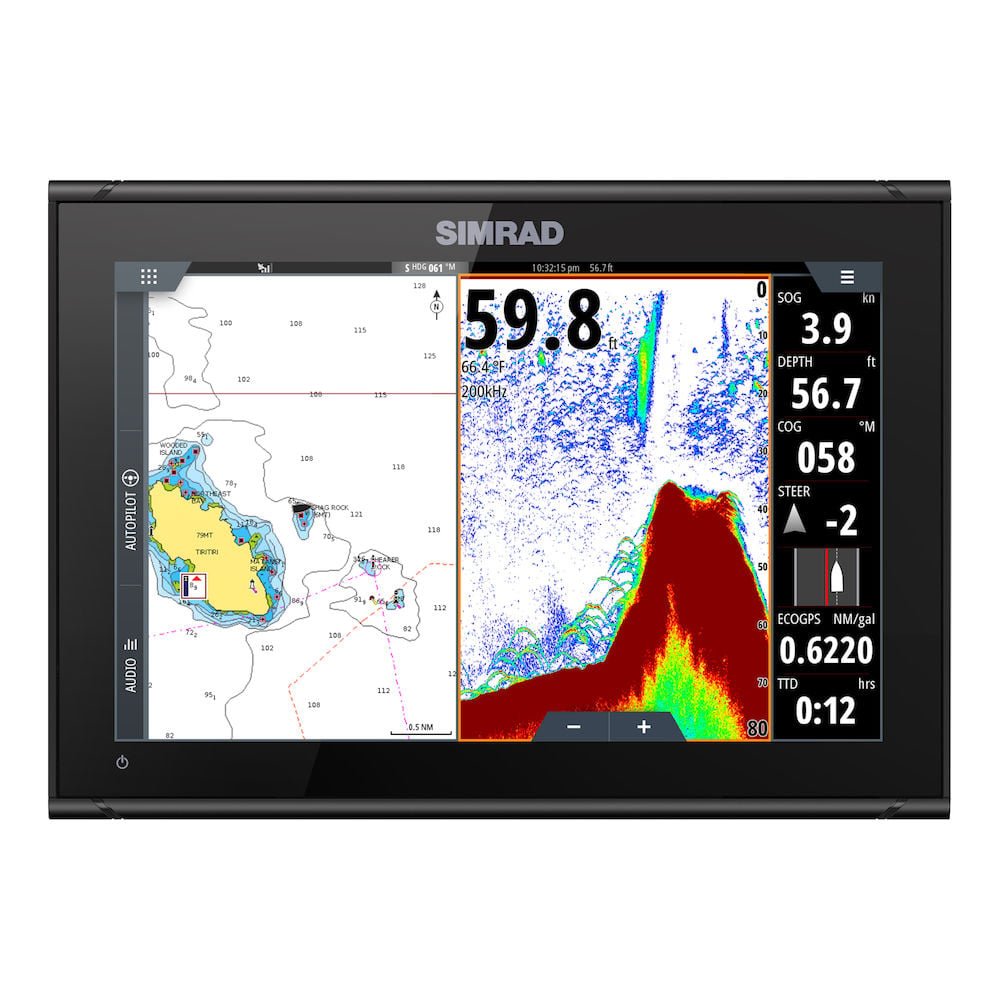 Widescreen da 12 pollici con retroilluminazione a LED.

Facile da usare con controlli touchscreen semplici e intuitivi.

Funziona come display per Broadband 3G ™ / 4G ™ e Halo ™ radar.

Supporta un'ampia gamma di grafici da C-MAP, Navionics e altri.

Il trasduttore TotalScan ™ offre viste CHIRP sonar e StructureScan® HD.

Compatibile con il modulo meteo satellitare SiriusXM WM-3 (solo Nord America).