Key Features
-Low Profile Glass Design
-More Screen, Less Border
-Widescreen, Multi Touch Display
-Built in High Gain 10Hz GPS/GLONASS
-Built in CHIRP/Traditional sonar
-Built in StructureScan
-4 display sizes 7", 9", 12" & 16"
-High Brightness Displays
-All new HEROiC Software
-OP40 remote operable
-Chartplotter only versions available
-Networks with existing NSS, NSE, NSO series MFDs
-Networks with all Simrad Performance Modules
-8mm Dash Profile: Family Matched with New MO Monitors
-OP40 Remote Controllable
HEROiC Software
-All new HEROiC Software has been engineered for ease of use and to maximise the benefits of widescreen multi-touch display technology.
-HEROiC has an all new look and feel for Simrad while maintaining the familiar features for the seasoned Simrad user
-HEROiC has been designed for mixed-mode user control to provide a powerful multi touch user interface that can also be operated by a keypad when the sea conditions get challenging
-HEROiC software is more customisable, allowing users to completely configure the system to their needs.
-Personalised Wallpaper
-Fully customisable favourites that can be accessed by a long press of the 'Home' key: HEROiC utilizes multitouch gestures for object manipulation and menu access. These types of controls are mainstream in todays Tablet/Smartphone market and very intuitive and easy to adapt to.
-Pinch to zoom Chart, Echo, Radar
-Drag the status bar down from the top of the display to access system controls
-OP40 Remote Controllable
Software Features
NSS evo2 inherits all the existing software feature from NSS RTM 3.0 plus more new for evo2:
-FLIR M-Series camera control
-OP40 Remote controllable
-Dual Radar
-48RPM Radar Support
-BEP C-Zone Integration
–Mercury VesselView Display Integration
–Fusion Link Audio Support – including multiple audio servers
–AIS SARTs
–NMEA Data Logging
–GRIB Weather support
–Adjustable page split ratios and panel layouts
–StructureMap overlay
–BSM2 SW v 1.7 compatible.
7-inch widescreen multi-touch display.
Switch seamlessly between touchscreen and keypad controls.
Built-in GPS receiver, StructureScan® HD, and CHIRP sounder.
Control Simrad sonar, radar, autopilot, and other accessories.
Industry-standard connectivity to engines, sound systems, and more.
Easy trip planning and support for automatic routing.
Choose low-profile flush mounting or convenient bracket mounting.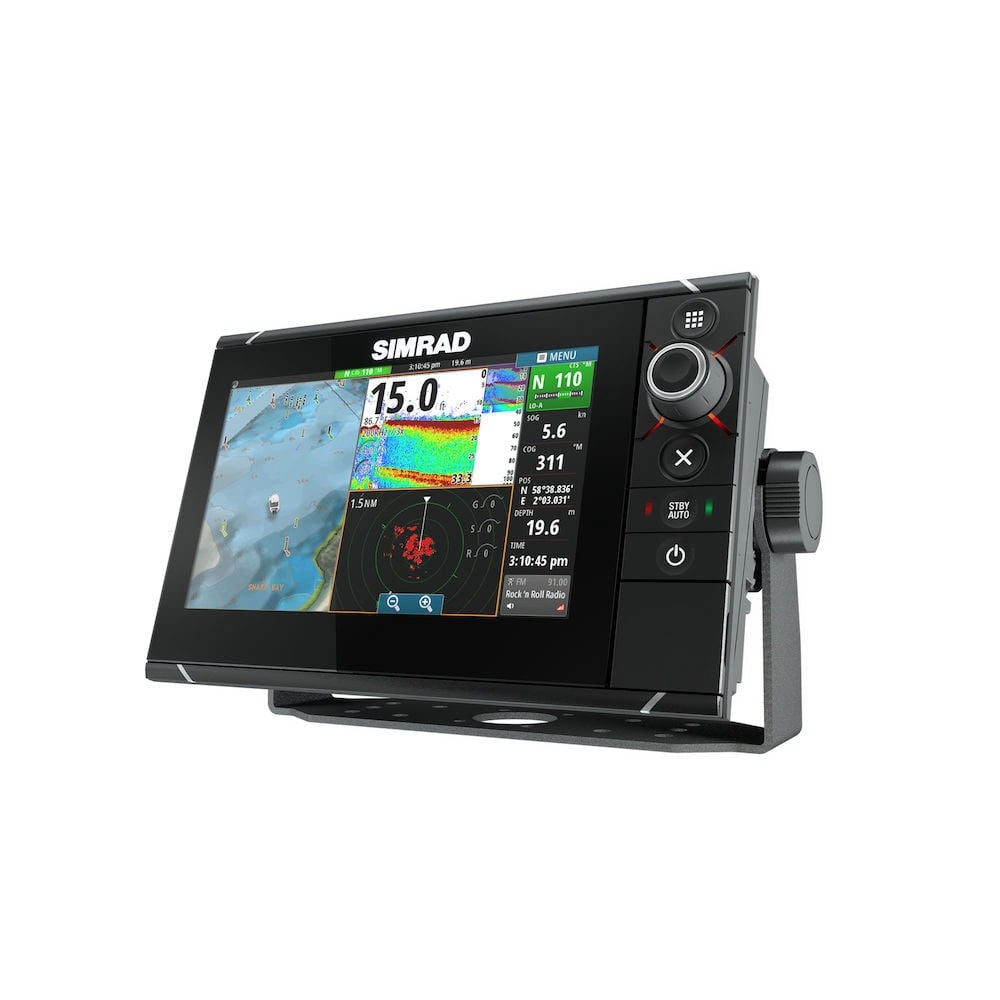 Approvals
| | |
| --- | --- |
| Compliance | CE, C-Tick, HDMI, EN 60950-1:2006, EN 60945:2002 EN 300 440-2, V1.4.2 |
Autopilot
| | |
| --- | --- |
| Manouevres / Turn Patterns | U-turn, Spiral-turn, C-turn, Zig-zag, Square-turn, Lazy S-turn, Depth contour tracking |
| Steering Modes | Auto, Nav., No Drift, Follow up, Non-follow up, Turn patterns, Standby, *Wind, *Wind NAV. (*Boat type set to Sail) |
Connectivity
| | |
| --- | --- |
| NMEA 0183 Sentences supported | Input: GGA, GLL, GSA, GSV, VTG, ZDA, RMC, DBT, DPT, MTW, VLW, VHW, HDG, HDT, HDM, MWV, MWD, DSC, DSE, VDM. (Note AIS sentences are not bridged to or from NMEA 2000)Output: GGA, GLL, GSA, GSV, VTG, ZDA, RMC, DBT, DPT, MTW, VLW, VHW, HDG, MWV, MWD, TLL, TTM |
| Bluetooth | No |
| Ethernet | 2 x 5 pin yellow connector x 1 Mbit, max 6 processors on network |
| N2K PGNs | Receive only59392 ISO Acknowledgement, 59904 ISO Request, 60928 ISO Address Claim, 65285 Temperature with Instance, 65323 Data User Group Request, 65325 Reprogram Status, 65341 Autopilot Mode, 65480 Autopilot Mode, 127245 Rudder, 127251 Rate of Turn, 127257 Attitude, 127488 Engine Parameters, Rapid Update, 127489 Engine Parameters, Dynamic, 127493 Transmission Parameters, Dynamic, 127503 AC input status, 127504 AC Output Status, 127505 Fluid Level, 127506 DC Detailed Status, 127507 Charger Status, 127508 Battery Status, 127509 Inverter Status, 129033 Time & Date, 129038 AIS Class A Position Report, 129039 AIS Class B Position Report, 129040 AIS Class B Extended Position Report, 129794 AIS Class A Static and Voyage Related Data, 129801 AIS Addressed Safety Related Message, 129802 AIS Safety Related Broadcast Message, 129808 DSC Call Information, 129809 AIS Class B "CS" Static Data Report, Part A, 129810 AIS Class B "CS" Static Data Report, Part B, 130313 Humidity, 130314 Actual Pressure, 130576 Small Craft Status, 130842 SimNet DSC Message, 130851 Event Reply, 130817 Product Info, 130820 Reprogram Status, 130832 Fuel Used – High Resolution, 130834 Engine and Tank Configuration, 130838 Fluid Level Warning, 130843 Sonar Status, Frequency and DSP Voltage,Transmit and Receive:61184 Parameter Request/Command, 65289 Trim Tab Insect Configuration, 65291 Backlight Control, 65292 Clear Fluid Level Warnings, 65293 LGC-2000 Configuration, 126208 ISO Command Group Function, 126992 System Time, 126996 Product Info, 127237 Heading/Track Control, 127250 Vessel Heading, 127258 Magnetic Variation, 128259 Speed, Water referenced, 128267 Water Depth, 128275 DistanceLog, 129025 Position, Rapid Update, 129026 COG & SOG, Rapid Update, 129029 GNSS Position Data, 129283 Cross Track Error, 129284 Navigation Data, 129539 GNSS DOPs, 129540 GNSS Sats in View, 130074 Route and WP Service – WP List – WP Name & Position, 130306 Wind Data, 130310 Environmental Parameters, 130311 Environmental Parameters, 130312 Temperature, 130577 Direction Data, 130840 Data User Group Configuration, 130845 Parameter Handle, 130850 Event Command, 130831 Suzuki Engine and Storage Device Config, 130835 SetEngineAndTankConfiguration, 130839 Pressure Insect ConfigurationTransmit only65287 Configure Temperature INSOcts, 65290 Paddle Wheel Speed Configuration, 129285 Route/Waypoint Data, 130818 Reprogram Data, 130819 Request Reprogram, 130828 Set Serial Number, 130836 Fluid Level Insect Configuration, 130837 Fuel Flow Turbine Configuration |
| NMEA 0183 | 2 x Transmit, 1 x Receive NMEA 0183, Baud Rates 4800, 9600, 19200, 38400. TX and RX use same baud rate. Optional data cable required (P/N 000-00129-001) |
| NMEA 2000 | 2 x NMEA 2000 Micro-C port, 1 LEN |
| PC Connectivity | No |
| Video | 3 x composite (RCA connectors) inputs. Optional video/ data cable required (P/N 000-00129-001). |
| WiFi | Compatible with WIFI-1 external module |
Display
| | |
| --- | --- |
| Backlight Color | White |
| Resolution | 480 x 800, WVGA, 15:9 |
| Screen Brightness | 1200 nits |
| Size and Type | 7″ optically bonded TFT |
| Viewing Angles | 50° top / 60° bottom, 70° left/right |
Electrical
| | |
| --- | --- |
| Power Consumption, max. | 12W |
| Power Consumption, min. | 4W |
| Power Consumption, typical | 10W |
| Recommended Fuse Rating | 5A |
| Supply Voltage | 10 – 31.2 V DC |
Environment
| | |
| --- | --- |
| Operating Temperature Range | -15°C to +55°C (5° F to 131° F) |
| Storage Temperature Range | "-20°C to +60°C (4°F to 140°F) |
| Waterproof rating | IPX6 and 7 |
GPS
| | |
| --- | --- |
| Correction | WASS, EGNOS, MSAS |
| GPS Receiver Channels | 32 Channels |
| Position Accuracy | Horizontal Accuracy 3 m (9.8 ft) |
| Time to First Fix | Cold start 50 sec, Satellite Reacquisition 5 sec |
| Update rate | 10 Hz |
MFD
| | |
| --- | --- |
| AIS | Receive AIS data over NMEA 2000 or *NMEA 0183 (has to be wired to all NSS processors) |
| Autopilot | Full auto pilot control and commissioning |
| Cartography included | World base map |
| Cartography supported | Insight, Navionics (Gold, NAV+ Platinum+) , C-MAP (MAX N, MAX N+) |
| Digital Switching | BEP C-Zone |
| External Storage | 3 MicroSD slots, max. 32GB each |
| GPS | Internal, 10Hz, WASS, MSAS, EGNOS |
| Multimedia | via SonicHub, SonicHub2, FusionLink, *Sirius (*USA only) |
| Radar (inc. compatibility) | Broadband Radar, Halo Pulse Compression Radar, HD Pulse |
| Sonar (inc. compatibility) | Integrated CHIRP downscan and StructureScan/ForwardScan. Compatible with: SonarHub, BSM-3, BSM-2, BSM1 network echo sounders |
| Weather | SiriusXM via WM-3 (USA only), GRIB |
| Waypoints, Routes, Tracks | 6001 waypoints, 500 Routes with 100 max route points, 50 tracks with up to 12,000 track points. |
Physical
| | |
| --- | --- |
| Dimensions (W x H x D) | 233 x 147 x 106 mm (9.1 x 5.8 x 4.2″) |
| Mounting Type | Bracket (Supplied) , panel, flush |
| Weight | 1.164 kg (2.57 lbs.) |
Other
| | |
| --- | --- |
| Warranty Period | 3 Years |
| Interface | Touch Sensible combination of multi-touch screen and keypad/rotary, OP40, OP50 |
| Languages | Standard Language Pack: English(US), English(UK), Danish, German, Spanish, Finnish, French, Greek, Icelandic, Italian, Dutch, Norwegian, Portuguese, SwedishAsian Language Pack: English (US), Japanese, Korean, Thai, Chinese, Eastern European Language Pack: English (US), English (UK), Bulgarian, German, Spanish, French, Hebrew, Croatian, Hungarian, Italian, Lithuanian, Latvian, Polish, Slovak, TurkishRussia/Ukraine Language pack: English (US), English(UK), German, Spanish, French, Italian, Russian, UkrainianMiddle Eastern Language Pack: English (US), English (UK), Arabic, German, Spanish, Farsi, French, Italian |