Unique Sales Proposition
-Full Featured VHF with expansion options – suitable for any user.
-Simrad Tough. Quality and performance you'd expect.
-Added Value with built in AIS receiver – one antenna required.
-Sophisticated Wireless Handset with unique inductive charging.
-Easy to use – large screen packed with info, proven rotary controls
Features
-Large 57mm diameter speaker for loud & clear audio (94dBA @ 1m)
-High quality fist mic: In-built speaker for noisy environments, 6 keys for easy helm operation, Easy grip rubber over moulding
-Advanced radio features including AIS plot, waypoints, navigation and MOB features
-Track Your Buddy when connected to a Navico MFD
-PA/Hailer Horn output with Listen back feature
-Flush mount kit & sun cover included as standard
VHF features and functionality
-All International, CANADA, USA Channels
-10 weather channel with 1050hz alert tone detect (for US)
-Selectable 25/1-watt Transmit Power (conduct)
-Support Private channels (able to vary by dealer at site by clone s/w)
-PLL Controlled Circuitry
-2nd Receiver for CH70
-NMEA0183 IN for GPS function
-NMEA0183 OUT for AIS Distress + polling calls function
-NMEA 2000 Interface for quick and easy DSC/AIS Connection to MFD.
-Update radio software over N2K via Navico MFD
-4 Watt external speaker output
-Additional speaker in fist mic
-Auto / manual FOG
-ATIS Function (for EU)
-Local / Distant function
-Dual Watch/TRI Watch Function
-Memory Retention
-20 user Programmable names with MMSI
-All Channel Priority Scan
-Memory Channel Scan
-Water Resistance – JIS 7
-GPS Input for Automatic Time and Position Update
AIS features and functionality
-Dual AIS receiver: Receiver Frequency: 161.975MHz, 162.025MHz
-PLL Controlled Circuitry
-Supporting AIS Information: Vessel Name, Type of vessel, Call sign, MMSI number, IMO number, Draft/Size of vessel, Vessel position, SOG/COG/Rate of turn/Heading, Status/Destination/ETA
-NMEA0183HS Output (38400 Baud)
-GPS Input Interface
-RS232 and RS422 output
-AIS PPI on LCD (Plot)
AIS 101
About AIS
The marine Automatic Identification System (AIS) is a location and vessel information reporting system. It allows vessels equipped with AIS to automatically and dynamically share and regularly update their position, speed, course and other information such as vessel identity with similarly equipped vessels. Position is derived from the Global Positioning System (GPS) and communication between vessels is by Very High Frequency (VHF) digital transmissions.
There are a number of types of AIS device as follows:
Class A transceivers.
These are similar to class B transceivers, but they are designed to be fitted on large vessels such as cargo ships and large passenger vessels. Class A transceivers transmit at a higher VHF signal power than class B transceivers and therefore can be received by more distant vessels, and also transmit more frequently. Class A transceivers are mandatory on all vessels over 300 gross tonnes on international voyages and certain types of passenger vessels under the SOLAS regulations.
Class B transceivers.
Similar to class A transceivers in many ways, but are normally lower cost due to the less stringent performance requirements. Class B transceivers transmit at a lower power and at a lower reporting rate than class A transceivers.
AIS base stations.
AIS base stations are used by Vessel Traffic Systems to monitor and control the transmissions of AIS transceivers.
Aids to Navigation
(AtoN) transceivers. AtoNs are transceivers mounted on buoys or other hazards to shipping which transmit details of their location to the surrounding vessels.
AIS receivers.
AIS receivers will generally receive transmissions from class A transceivers, class B transceivers, AtoNs and AIS base stations but do not transmit any information about the vessel on which they are installed.
RS35 is also an AIS Receiver
Static and dynamic vessel data There are two categories of information transmitted by an AIS transceiver: static and dynamic data. The vessel's dynamic data, which includes location, speed over ground (SOG) and course over ground (COG), is calculated automatically using the installed AIS antenna. Static data is information about the vessel which must be programmed into the AIS transceiver. This includes:
•Maritime Mobile Service Identity (MMSI)
•Vessel name
•Vessel call sign (if available)
•Vessel type
•Vessel dimensions In most countries the operation of an AIS transceiver is included under the vessel's marine VHF licence provisions. The vessel on to which the AIS unit is to be installed must therefore possess a current VHF radiotelephone licence which lists the AIS system, vessel Call Sign and MMSI number.
Class D DSC approved VHF radio.
Dual channel AIS receiver.
Ergonomic fist microphone with built-in speaker.
HS35 wireless handset option.
Dual and tri-channel watch functions.
Loud and clear audio, with hailer and external speaker support.
NMEA 0183® and NMEA 2000® compatible.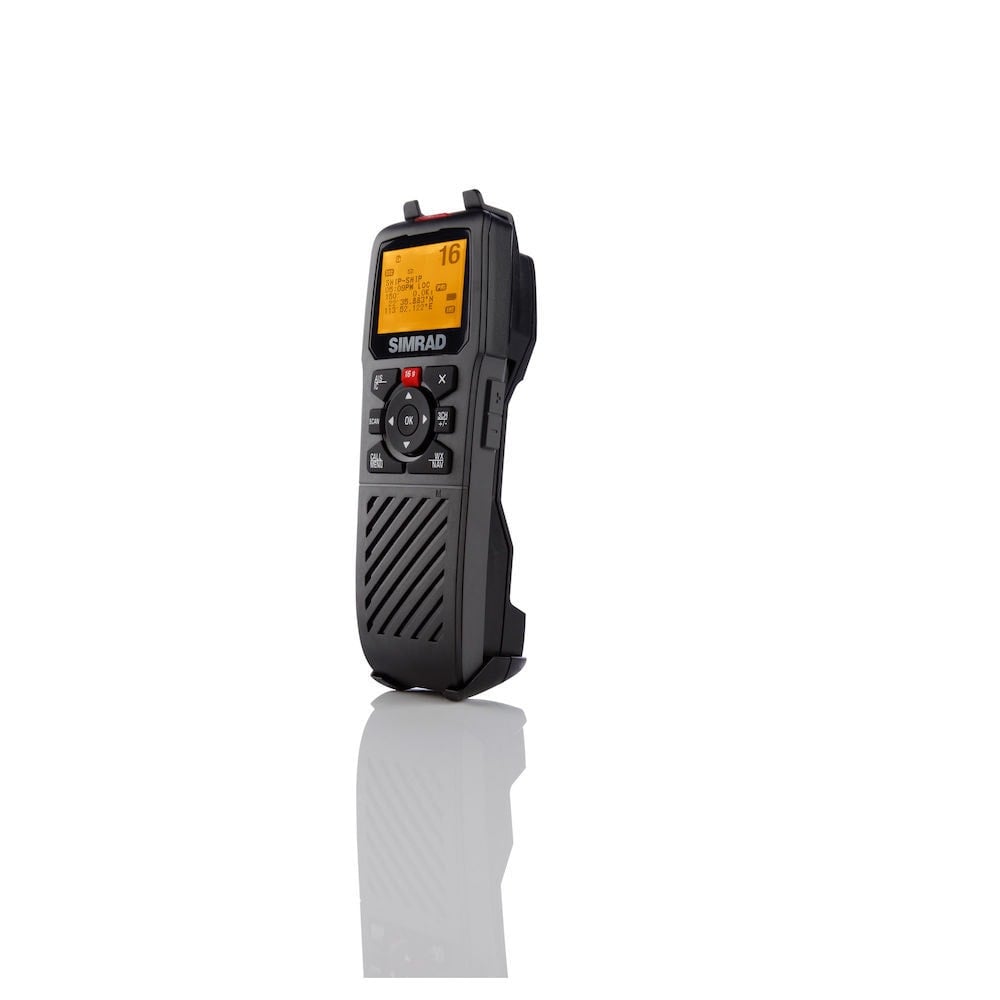 Approvals
| | |
| --- | --- |
| Compliance | ITU-R M493-13 US Models; EN300-338-3 EU Models |
Communications
| | |
| --- | --- |
| Channels | 55 INT;53 USA; 61 CAN; 10 Weather |
| DSC Class | Class D |
| Frequency Range | Tx MHz 156.025 To 157.425 ; Rx MHz 156.025 To 163.275 |
| Hailer Function | 30W @ 4 Ohms |
| Handset type | Fist Mike |
| Intercom | 1 Wireless Stations |
| Multiple Stations | Additional 2 HS35 Wireless Remotes |
| Transmit Power | 23 +/- 2 W |
Connectivity
| | |
| --- | --- |
| NMEA 0183 Sentences supported | Output:DSC,DSE,VDM Input:RMC,GGA,GLL,GNS |
| N2K PGNs | 127250;127258;129025;129026;129029;129033;129038;129039;129040;129041;129283;129284;129285;129792;129793;129794;129795;129796;129797;129798;129799;129800;129801;129802;129803;129804;129805;129806;129807;129808;129809;129810;130074;130842 |
| NMEA 0183 | 2x Tx, 1x Rx NMEA 0183, Baud Rate 4,800 -38400 |
| NMEA 2000 | 1x NMEA 20000 Micro-C port, 1 LEN |
Display
| | |
| --- | --- |
| Backlight Color | Amber |
| Resolution | 128x156px |
Electrical
| | |
| --- | --- |
| Battery | 12V DC |
| Power Consumption, max. | 78W |
| Recommended Fuse Rating | 10A |
| Supply Voltage | 12VDC |
Environment
| | |
| --- | --- |
| Operating Temperature Range | -20ºC to +55ºC (-4ºF to 131ºF) |
| Waterproof rating | JIS-7 |
MFD
| | |
| --- | --- |
| Compass Safe Distance – Metric, imperial | 0.5m (1.5′) |
Physical
| | |
| --- | --- |
| Dimensions (W x H x D) | 180.5 x 98.5 x 170.3mm ( 7.11 x 3.88 x 6.70″ ) |
| Mounting Type | Bracket, Flush |
| Weight | 1.63kg (3.59lbs) |
Other
| | |
| --- | --- |
| Warranty Period | 2 Years |
| Interface | Keypad controls and Rotary dial |